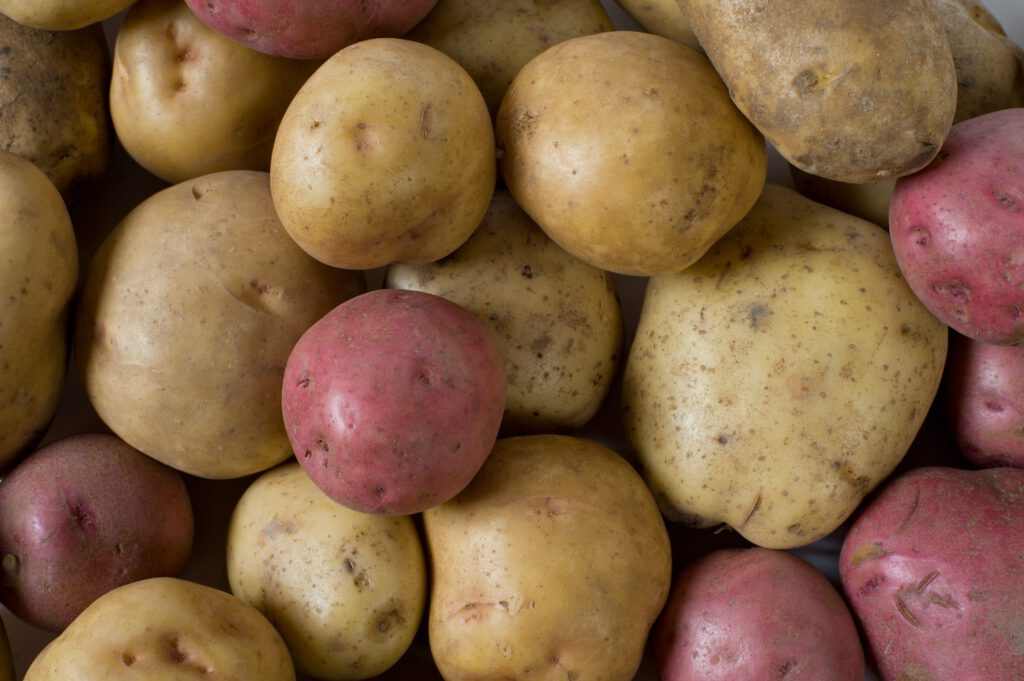 New Brunswick grows 50,000 acres of quality potatoes.
Approximately 60% of the acreage represents processing potatoes, 22% is seed potatoes and 18% is table potatoes.
The New Brunswick potato industry has 200 farm operations.
New Brunswick has been exporting potatoes for over 100 years and currently ships to approximately 35 countries.
The Shepody variety, used by the potato industry the world over, was developed here in New Brunswick.
New Brunswick has a unique soil type, "Holmesville" soil which is one of the most fertile soil of North America's soil types. Many people believe this accounts for the excellent taste of New Brunswick potatoes.
Potatoes New Brunswick does not usually buy or sell potatoes, although it is empowered to do so. Normally, producers are free to sell, buy and market the crop where and when they choose.
A producer may plant the acreage and assortment of potato varieties desired, providing federal and provincial trade and phytosanitary regulations are fulfilled.
Potatoes New Brunswick is unique in that we follow the province of New Brunswick's bilingual policy. Our grower meetings regularly feature both English and French.
Only CFIA certified seed can be grown in New Brunswick.
Acronyms
AAFC – Agriculture and Agri-Food Canada
APHIS – U.S. Animal and Plant Health Inspection Service
CFA – Canadian Federation of Agriculture
CFIA – Canadian Food Inspection Agency
CHC – Canadian Horticultural Council
C-PIQ – Canadian Partners in Quality
NBDAFA – Department of Agriculture, Fisheries and Aquaculture
NAPPO – North American Plant Protection Organization
PMRA – Pest Management Regulatory Agency
PMANA – Potato Marketing Association of North America
PNB – Potatoes New Brunswick
USDA – U.S. Department of Agriculture
USFDA – U.S. Food and Drug Administration